Amanda's Farm to Fork, Lula, GA
Amanda Browning
Products: Chocolate Cake, Strawberry Cake, Peanut Butter Cake, Cinnamon Rolls, Sourdough Bread, and assorted desserts
B & B Enterprises, Flowery Branch, GA
Bob and Bev Bradbury
Products: Local Honey & Honey Items, Honey Pots, Beeswax Candles, Lip Balm, Moisturizing Cream, and Honey Straws
770-965-9529
Easy B's Kitchen, Gainesville, GA
Tim Broxton
Fresh-made Spinach Artichoke Dips, Pimento Cheese, Fresh Vegetable and Summer Salads, Dark Chocolate Brownies

www.facebook.com/easybs.kitchen
easybkitchen.com
404-376-1879
Jeannie's Weenies, Flowery Branch, GA
Jean Cochran
Products: A mobile hot dog wagon that "brings the fun to you". Jeannie serves Nathan's all beef quarter pound hot dogs on an awesome butter bun.
www.facebook.com/Jeannies-Weenies
404-933-7339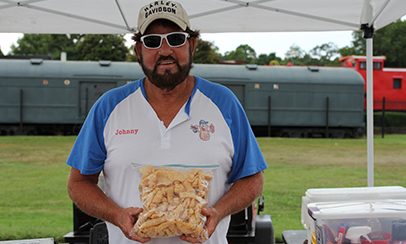 Paw Paws Peanuts, Flowery Branch, GA
Paw Paw and Annette Attaway McDonald
Products: Boiled Peanuts, Roasted Peanuts, Pork Skins, Fresh Squeezed Lemonade, and Pink Lemonade
www.facebook.com/pawapawspeanuts
pawpawspeanuts.vpweb.com
770-896-5330
Tambo Coffee, Cleveland, GA
Martin Carrion
Products: Single Estate Coffee from the ecuadorian cloudforest grown in the Tandayapa Valley at our family farm. Small-batch roasted in Cleveland, GA.
www.facebook.com/tambocoffee
tambocoffee.com
770-361-3579
Royal Rose Bakery, Dawsonville, GA
Mimi (Myriam Shuler)
Baked Goods: Specializes in French baked goods: Cakes, cookies, quiches, breads and baguettes, quick breads. The best of Provence, France.

That Bread Lady, Cleveland, GA
Shelley Bouchard
Products: A really wonderful selection of handmade breads and cookies - fresh from the oven