B & B Enterprises, Flowery Branch, GA
Bob and Bev Bradbury
Products: Local Honey & Honey Items, Honey Pots, Beeswax Candles, Lip Balm, Moisturizing Cream, and Honey Straws
770-965-9529
Diletto Bakery, Gainesville, GA
James and Yeni
Products: International breads. Dulce de Leche, Guava and Cheese, Conchas filled with dulce de leche and raisins, and desserts, too.
770-965-9529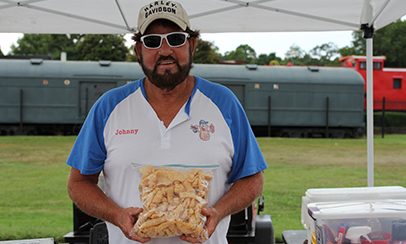 Paw Paws Peanuts, Flowery Branch, GA
Paw Paw and Annette Attaway McDonald
Products: Boiled Peanuts, Roasted Peanuts, Pork Skins, Fresh Squeezed Lemonade, and Pink Lemonade
www.facebook.com/pawapawspeanuts
pawpawspeanuts.vpweb.com
770-896-5330
Tambo Coffee, Cleveland, GA
Martin Carrion
Products: Single Estate Coffee from the ecuadorian cloudforest grown in the Tandayapa Valley at our family farm. Small-batch roasted in Cleveland, GA.
www.facebook.com/tambocoffee
tambocoffee.com
770-361-3579
That Bread Lady, Cleveland, GA
Shelley Bouchard
Products: A really wonderful selection of handmade breads and cookies - fresh from the oven